I'm sure you remember that a few years ago, we used to take a digital camera with us on a trip or vacation. But these times are long gone, unless you are a professional photographer. Today, even some middle-class smartphones can take miraculous photos. Of course, these are not comparable to an SLR camera. But let's face it, for an ordinary person who is not a photographer, an SLR camera is a useless purchase. But what about a 360-degree camera or even a spherical camera? That's exactly what I can't forget on any of my trips.
360-degree camera
These cameras are equipped with several lenses, the most common types contain two to several hundred lenses. With the help of each of the lenses, a complete field of view can be captured. For explanation, the camera has two lenses. This means that one lens takes a 180° shot, the other also takes a 180 ° shot, together forming a 360 ° shot. This makes the photo panoramic, and you can look at the photo from above or below, or to whichever side you´d like to see.
However, you must have the application in order to view 360 ° photos or videos. Usually, every 360 ° camera has its own Android and iOS application, thanks to which you can view images, edit and share them. All you need is Wi-Fi, which every single smartphone has. All of Samsung's latest flagships are ready for the standard 360-degree photo display, as well as older devices with the latest version of the Gallery app. If you want to view images in the spherical mode on a computer, you need to upload them to Flickr, which allows you to view all 360-degree images, even enabling you to send photographs by link, download and upload them.
1. You don't have to ask anyone to take a photo of you
You want to be in the photo as a couple or a group, but do you have to ask someone to take a photo of you? Or do you turn the front camera on the smartphone and start posing? If you're using a 360-degree camera, just turn it on. Usually, each camera turns on within 1-3 seconds. Then just a hundredth of a second is enough, just click the shutter button and the photo is taken. All you need is to hold the camera in your hand and smile. You don't have to worry about anything else. The camera does its job, sets the ISO, sensitivity, etc. Sometimes you can even take better photos than you would with a classic camera.
2. Create interesting panoramic shots that you can view from every side
The ability to view the entire photo from each and every side allows you to pause for a moment and then consistently view every single side of this image. You will notice the very details of the image and create a shot in which the whole group is present, you don't all have to stand in front of the lens, you just place the lens and you can create a memory.
3. From each shot, you can make a classic photo as well as a unique photo
If you want to cut out only a part of the panoramic shot, it is not a problem. It's also not a problem to use the camera application options to view a photo from any angle, and hence create an unusual photo that looks in all directions like the photo below.
4. You can enjoy the experience in virtual reality
Have you ever heard of virtual reality? It is a technology that allows you to find yourself in a completely different world. All just by using a VR headset and your smartphone, on which you have an application for viewing 360-degree photos in the VR mode. Just insert the mobile phone into the headset, place the headset close to your eyes and turn your head. Each movement of your head will change the angle of the photo and you will be able to find yourself in the virtual reality and see with your own eyes the photos you have captured. You will see the moment again and relive the experience of your life again!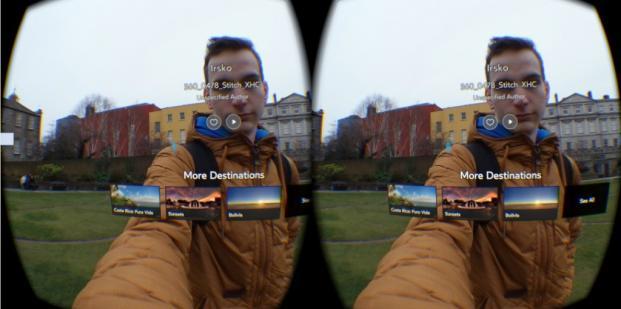 5. A 360° camera is not an expensive affair
I write reviews of 360-degree cameras regularly, I am interested in the topic of virtual reality, augmented reality, and 360-degree cameras clearly belong to that. The prices of such cameras range from 150 € up to several thousand euros.

For ordinary users, however, there are several affordable cameras with an excellent price / performance ratio. I recommend the Xiaomi Mi Sphere the most, it is a middle class camera that can create photos with a resolution of 6912 x 3456 at 23.8 Mpx. Its application is one of the most complex ones, it can display photos from a number of angles, directly download and save them.

If you want to invest in the camera a little more and have 5.7K videos and great shots, a well-equipped photo and video editing application for spherical shots, then I would recommend Insta360 One X, which is also sold through the official Insta360 store. Thanks to my link, you can get a battery or a selfie stick for free. Shipping is included, also customs duties. The price is € 459.95.
6. A selfie stick is important if you want to take beautiful photos
The creation of 360-degree photos is usually done by holding the hand and pressing the start button, or by using a smartphone. But it is necessary to keep in mind that the camera takes a shot from all sides, so in some photos your hand or a part of it will be visible. However, the advantages of the selfie stick are that it can move away and it is switched on from the bottom. At the bottom of the camera, something like a blind angle appears, thanks to which it will not be possible to see any part of the selfie stick at all.
You can see the magic of the selfie stick in the following photo. The Xiaomi Mi Sphere that I recommend has its own selfie stick, which offers the ability to take photos without connecting to any wireless technology. When you attach it, it connects directly to the button below. The selfie stick can be purchased from the Gearbest website.
If you opt for an Insta360 One X, the selfie stick is free if you use the purchase link from my link.