360 cameras are also referred to as spherical. They are equipped with two to several hundred lenses. Additionally, they capture the field of view in the range of 360 degrees. They have several advantages over conventional cameras. Why you should go for a 360 camera, you will learn in my article Why a 360 ° camera instead of a single-lens reflex camera. But which camera to choose in 2020? You will find out in this article.
360 cameras
These are cameras that are equipped with several lenses, the most common types contain two to several hundred lenses. With the help of each of the lenses, a complete field of view can be captured. For explanation, the camera has two lenses. This means that one lens takes a 180 ° shot, the other also takes a 180 ° shot, together forming a 360 ° shot. This makes the photo panoramic, and you can look at the photo from above or below, or to whichever side you´d like to see.
However, you must have the application in order to view 360 ° photos or videos. Usually, every 360 ° camera has its own Android and iOS application, thanks to which you can view images, edit and share them. All you need is Wi-Fi, which every single smartphone has. All of Samsung's latest flagships are ready for the standard 360-degree photo display, as well as older devices with the latest version of the Gallery app. If you want to view images in the spherical mode on a computer, you need to upload them to Flickr, which allows you to view all 360-degree images, even enabling you to send photographs by link, download and upload them.
The best 360 cameras for 2020
360 degree cameras have several differences. The features are important. For example automatic "stitch" photos (which will save you problems with manual alignment of multiple images), image stabilization, the possibility of live broadcast. Resolution is also important, whether you're taking photos or shooting videos. Also the battery, as by shooting videos you will likely drain the battery in a half an hour to an hour, as opposed to 360-degree photos which you can take all day long.
This error message is only visible to WordPress admins
There has been a problem with your Instagram Feed.
Such photographs are referred to as Tiny Planet or Little Planet. The Little Planet label is one type of photo that you can create with a 360-degree camera.
1. Insta360 One X
The reason why I chose this camera to be the number one is its price / quality ratio. Insta360 shoots really great videos in 5.7K. These can be very easily edited using a simple smartphone application, or a more complex program in Windows. Another reason is the number of accessories that no other spherical camera offers. From the head clip to waterproof packaging, designed for diving up to 30m. Whether you are going to ski, skateboard, dive, jump off a plane or play football, Insta360 One X is a middle class for anyone who wants to start taking 360-degree shots, or already has some experience.
Video resolution: 5.7K (5760 x 2880 30FPS) |
Phone support: Android, iOS |
Water resistance: yes, with accessories
Battery life with the highest video quality: 1 hour |
Memory: MicroSD |
Highest photo capacity: 18 MP (6080 x 3040)
✔️ A lot of functions
✔️ Decent video/photo editing controls
✔️ Good picture quality
✔️ HDR modes
➖ Not quite an ideal design to use for action shots
2. GoPro Max
GoPro Max is a very durable 360 ° camera that offers sharp details, accurate colours and a large dynamic range. It is small and has a great compatibility with holders. It provides a touchscreen interface, an automatic 360-video connection, and a built-in stabilization. The content can be easily edited with the powerful GoPro application. The advantage is that it is water resistant, making it an ideal action camera. The camera was released only recently, it is an ideal candidate in the TOP 360 camera 2020.
Video resolution: 5.6K (4992 x 2496 30FPS ) |
Phone support: Android, iOS |
Water resistance: yes|
Battery life with the highest video quality: 1-2 hours|
Memory: MicroSD |
Highest photo capacity: 18MP (5760 x 2880)
✔️ Water resistance
✔️ Dynamic range
✔️ Compatibility with holders
✔️ Stabilization
➖Low quality in low light
➖360 video does not have a slow-motion mode
3. Ricoh Theta Z1
This one offers a very good lighting even in low light, which is ideal for some unlit areas, especially for indoor photography such as virtual tours. 360 degree still images are in higher resolution. With the THETA + mobile application, you can easily crop images, enrich them with various effects, add a musical background and fine-tune photos to their final form. You can also share images on the official website, and share them instantly.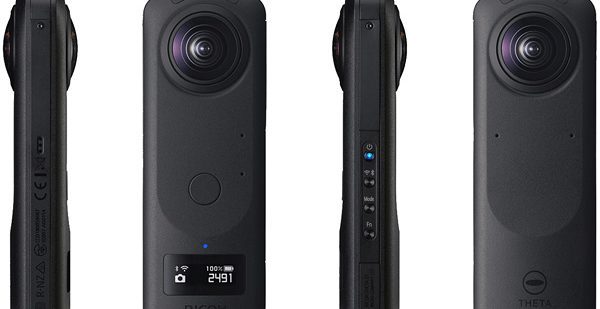 Video resolution: 4K (4096 x 2160 – 29.97 FPS) |
Phone support: Android, iOS |
Water resistance: No|
Battery life with the highest video quality: 4 hours|
Memory: internal memory 19GB|
Highest photo capacity: 20MP (3840×1920)
✔️ Good image even in low light
✔️ Robust, easy-to-use design
✔️ High-quality videos
➖ More expensive
➖ Without microSD option
➖ Needs two applications for editing
4. Insta360 One R
Insta360 One R is a unique 360-degree action camera that offers comparatively good value. This waterproof camera offers a choice of 3 interchangeable cameras, depending on which package you buy. In addition to using 360 ° shots, you can replace it with a classic action camera such as the GoPro. Additionally, you have the option of replacing 1 camera with a large 1 ″ sensor. Insta360 ONE R is IPX8 certified, waterproof up to 5 meters, contains GPS, you can wirelessly connect a microphone or headphones to it and with accessories, you can connect it to any drone.
Video resolution: 5.7K (5760×2880 – 30fps)|
Phone support: Android, iOS |
Water resistance: yes |
Battery life with highest video quality: 1 hour |
Memory: MicroSD |
Highest photo capacity: 18.8 MP (6080 x 3040)
✔️ Solid 4K and 360 ° image quality
✔️ Modular design (3 cameras in one)
✔️ Wide range of accessories
➖ Very small display
5. Theta SC
If you are looking for a cheaper but good spherical camera, then Theta SC is one of the most affordable cameras. With its features and specifications, it will not be as interesting as the cameras listed above. It is easy to use, but offers a manual control of exposure when needed. Compared to others, these videos are only in FullHD, but if you don't want to invest a lot, it is enough.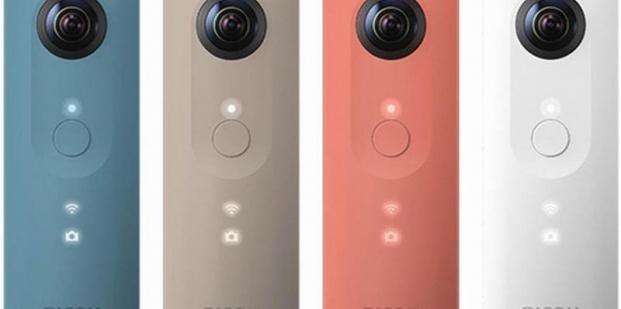 Video resolution: FullHD (1920×1080 – 29.97FPS) |
Phone support: Android, iOS |
Water resistance: No|
Battery life: 25 min. |
Memory: internal memory 8GB|
Highest photo capacity: 14.4MP (5376×2688)
✔️ Slim, compact design
✔️ Shooting still and 360-degree images
✔️ Manual control of exposure
➖ High-quality videos, only FullHD is weaker
➖ Slow transfer of videos to your phone